Will 'the Thrill' Viharo is a noted "gonzo pulp" fiction author, freelance writer, and B movie impresario.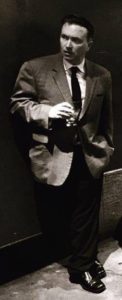 For many years he was best known as the producer, programmer and host of the long-running live "cult movie cabaret" called "Thrillville," which he hosted for many years around the Bay Area and beyond as "Will the Thrill," along with his wife, Monica "Tiki Goddess" Cortes-Viharo.
Now he has returned to his roots full-time as a freelance writer and pulp fiction author, contributing regular columns about vintage pop culture and the craft of writing to several publications.
His published bibliography includes the retrospective anthology series The Thrillville Pulp Fiction Collection featuring all of his standalone novels to date (A Mermaid Drowns in the Midnight Lounge, Freaks That Carry Your Luggage Up to the Room, Lavender Blonde, Down a Dark Alley, and Chumpy Walnut); as well as the definitive omnibus The Vic Valentine Classic Case Files: Fate Is My Pimp, Romance Takes a Rain Check, I Lost My Heart in Hollywood, and Diary of a Dick. All are now available via his own imprint, Thrillville Press.
Gutter Books reissued the first Vic Valentine novel, Love Stories Are Too Violent For Me in 2013. It was originally published by Wild Card Press in 1995, and has been optioned for a film by Christian Slater. In December 2015, Gutter published the most recent entry in the series, Hard-boiled Heart.
Additionally, Will has written two sci-fi collaborations with Scott Fulks, It Came From Hangar 18 and The Space Needler's Intergalactic Bar Guide.
Follow Will Viharo on Twitter
Purchase any of Will's books via his Amazon Author page