The Writers' Retreat of San Buenas is for writers.
Twice I've been asked by prospective attendees if people actually did any writing at our retreat. In retrospect we posted dozens of pictures on Facebook of our retreat attendees eating good-healthy food, enjoying each other's company, frolicking at the beach and pool, watching movies, etc, but posted few of them working.
The answer to the writing question is an emphatic, YES!
It seems we have an idea that writing has to be a morose, deeply solitary, laborious activity. Even depressing. Tap open a vein and bleed inside an old, dusty study hall while wearing tweeds or in a flophouse hung-over banging a typewriter with two fingers.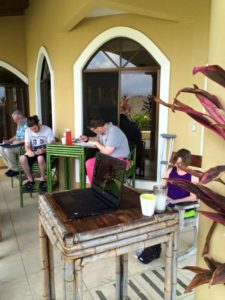 The Writers' Retreat of San Buenas is proof you can do some of your best writing ever while being fully stimulated and happy among other writers in paradise. Plus, we took very few photos of the attendees while they were writing. We wanted to respect the personal space of them while they were working, and quite frankly, nobody wants to hear the 'click' of a camera when working and/or deep in thought.
Nick and I had a code word for the numerous events and field trips for our retreat attendees: Stimulation.
We'd even say things like, "Do you think they need any more stimulation?"
Everything is designed to inspire the writers to write. And we had all different levels of writers there, from the Southern-born ex-con who already had written much of his memoirs, to the professional musician who hadn't written anything in over 2 decades, simply there for a catered vacation with his journalist boyfriend, only to rediscover his long-dormant passion and talent for the written word.
I have struggled with depression all my life and have survived more than one suicide attempt. And guess what? I was never happier than when I was living in San Buenas last year and that's when this writer also produced his best work, and I already had a published novel under my belt when I came to Costa Rica.
Happiness plus San Buenas equals Your Best Writing.
That simple.
San Buenas has not only inspired me (I wrote a novel here last year), but its inspirational power also impacted our retreaters.  Two poets came down, one a man in his 20s who stayed in The Kerouac Suite. The other, a woman in her 40s who stayed in The Steinbeck Suite. Each told me separately they wrote their best poetry while in Costa Rica.
The female poet read a piece that empowered her, even as it made the rest of us cry, so powerful and real. When happy you've got the strength to write about anything, regardless how painful. The young male poet, like myself, has struggled with the black dog of melancholia that has trailed so many artists and he told me several times, he was the happiest he had ever been in his life while in San Buenas. Watching him laugh among the waves at the beach, then sit down on the shore with his pen and pad to write, will always be one my personal highlights of our first retreat.
The Southern ex-con and I had a personal appointment in the Faulkner Suite where he was staying. (NOTE: All instructors are available for personal one-on-one time) We spent over an hour going over his memoir page by page. He had a wonderful start and after taking a couple suggestions to heart, he produced some amazing work, calling it the best he had ever done.
A well-known, recognizable character actor with an impressive career came down and stayed in The Bronte' Suite. While he has great show biz stories to share, what most sticks out in my mind, prompted by a workshop exercise, he wrote a brilliant piece about his childhood home and neighborhood in London, Ontario that hasn't left me. I've thought about it every day since. Think about that…there he is in Costa Rica in 2017, writing about growing up in Canada in the 1960s.
The afore-mentioned journalist, perhaps with the most writing experience of the attendees, though the others had a lot of work behind them, none had ever had a deadline like a journalist. Prompted by a simple question, he wrote a piece which he later read on Spoken Word Night.  So powerful was the writing, that towards the end of his reading, the only thing that could be heard was his voice, and the sniffles of everyone crying, it even caused him to break down a little bit while he was reading. Later, he described writing and performing the essay written at the retreat as cathartic. The personal experience he wrote about had been inside of him for thirty years, bouncing around, trying to get out. It took the Costa Rican ambiance and the relaxed, but steady atmosphere, of the retreat that provided him the perfect environment to get the experience written down.
While my workshops were instructional with in-class and outside class writing assignments, Will Viharo's workshops were therapeutic; encouraging attendees to go inward and investigate exactly why they wanted to write. This introspective exercise was something each attendee found very helpful and seemed to strengthen the quickly forming bonds of friendship.  In fact, by the end of the retreat, the attendees had all become good friends and were openly talking about a reunion meeting in two to three years.
Like many retreats promises were made to 'keep in touch' and 'keep on writing'. Well, this group has already kept that promise. A private Facebook Chat group was immediately set up, and the blog posts and private writings are flying back and forth amongst the attendees. That is what makes me the proudest – not only did the retreat reignite the passion in some cases, sharpen the talent in others, but also, created habits (and a bit of peer pressure) to continue the writing and learnings that were taught here at the Writers' Retreat of San Buenas.
In fact, Nick and I were so impressed with the amount and quality of writing produced during our the retreat, and having already spoken with a publisher, we are considering compiling an annual anthology featuring writing from retreat attendees and guest instructors (NOTE: all work that will be shared will be submitted and approved by the attendee/author first).
You read that correctly. We are considering our own anthology featuring attendees' work and guest instructors. Be patient, we are hammering out details as this blog is being written. More information to follow.
So, yeah, you can say we did some writing down there.
Happiness plus San Buenas equals Your Best Writing.
We look forward to seeing you down here.